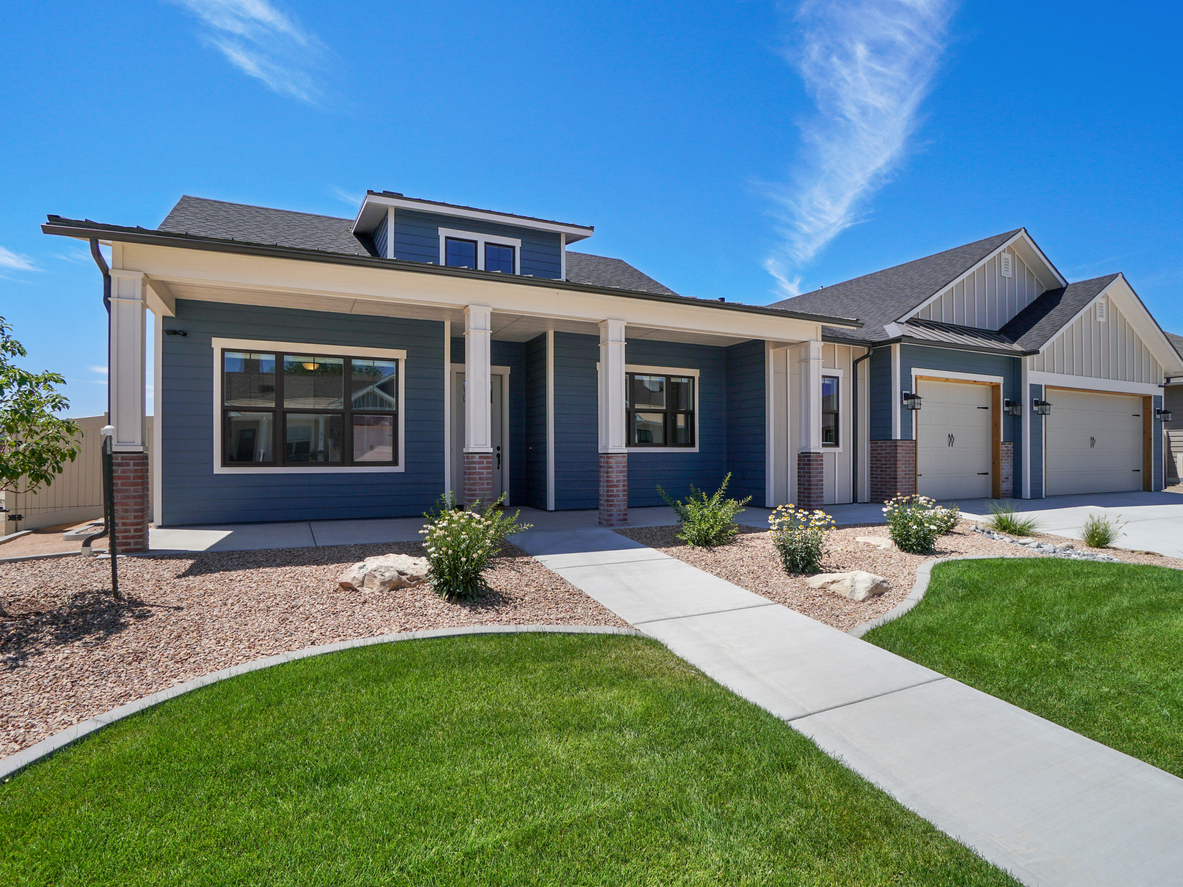 With its low maintenance costs and energy-efficient features, not to mention the chance to shape it according to your design and lifestyle preferences, it's not hard to see the appeal of living in a brand-new home. And in Olathe, Kansas, your options for new construction homes are aplenty. It's up to you to choose certain upgrades before you move in to make it your own. 
Wondering how to buy a new construction home in Olathe, Kansas? Learn more about the types of new construction homes and our top tips and tricks when navigating the new construction homebuying process below.
At a glance:
Why should I choose a new construction home over a resale?
A new construction home is a property that has never been lived in before. It can be a home constructed by a developer or one you commissioned to build according to your specifications. 
Some people think that new construction homes are the better alternative over resales. Reasons vary, but these are the most popular (and true):
Resales, because they're older, require a fair amount of maintenance. These properties have had more time to accumulate wear and tear. That's why home sellers often make repairs and upgrades before listing the property and turning it over to the new owners. New homeowners also must keep up with any minor or major repairs that they inherit. You don't need to worry about any of these with a new construction home; everything is brand-new, from the appliances to the HVAC systems. 
Energy-efficient features
These days, homes to be built must comply with energy-efficiency codes before they're constructed. As a result, brand-new homes in the market come with a variety of energy-efficient features like updated heating and cooling systems, multi-pane windows, and additional insulation in attics. Of course, some resales might also offer the same features, but it might come with a heftier price tag.
Customized to fit your style and preferences
Some builders let you customize certain elements in your new construction home, while others give you free rein over everything. Either way, making the house look and feel according to your preferences will be much easier. 
Speaking of brand-new everything, new construction homes often have warranties. When you buy a home from a builder or developer, they typically offer short-term, structural warranties (around one to two years) on certain areas of the home like the plumbing or even the materials used. Warranties also apply to the new appliances and electronics that will come with the home.
Compared to older properties, new construction homes can be more expensive. However, these houses can also have better resale value, especially if you choose the right upgrades. Wooden floors, for one, is a new construction upgrade that can up the price of any home because of its durability and beauty.
Types of new construction homes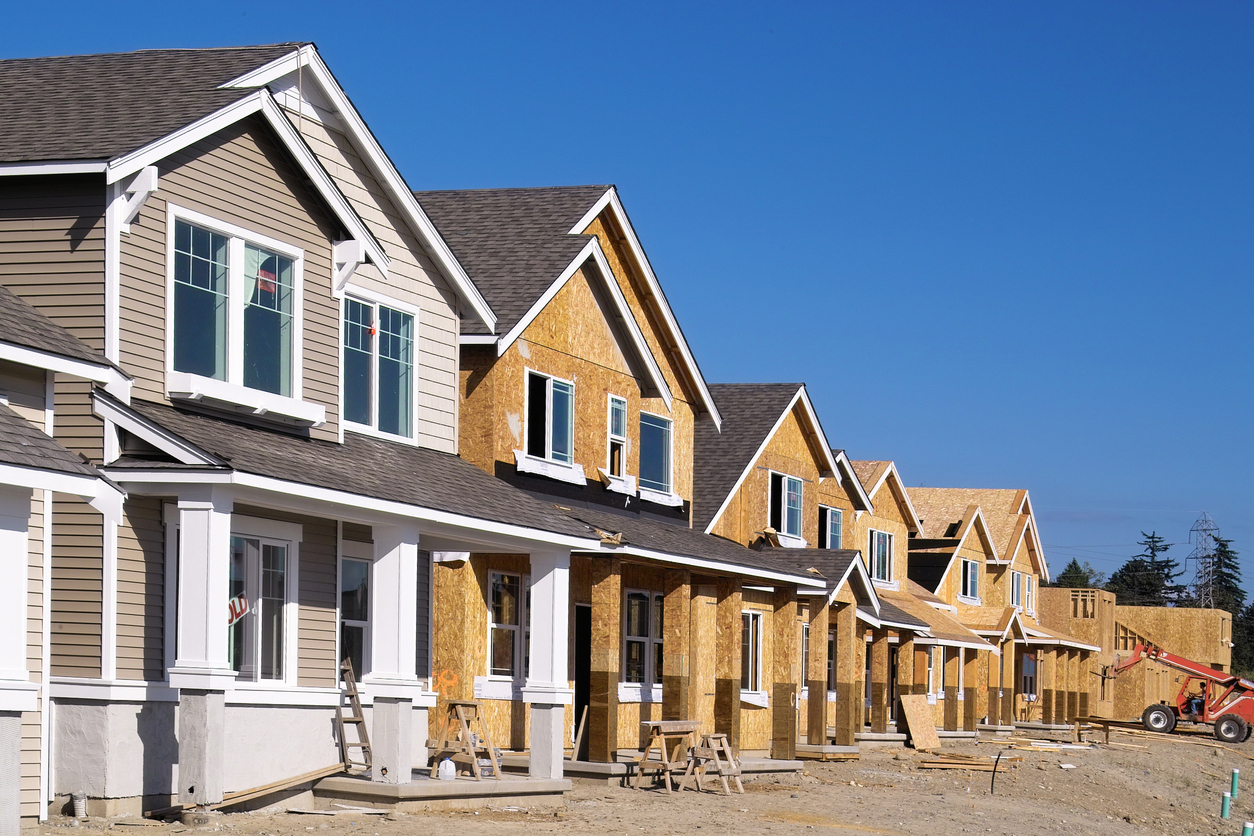 New construction homes come in a variety of options to choose from, offering different levels of customization, among other things. These are the most common types of new construction homes:
A custom home is exactly what it sounds like: They are built according to your tastes and your lifestyle. You will work directly with the builder and choose the materials, design, and other elements you want in your new home. 
Custom homes are most ideal for those who want to be more hands-on with the construction of the home. You will have to make a lot of design decisions, from the number of bedrooms or where the light switches will go. 
Due to the additional cost, time, and effort, the price of a custom home usually comes at a premium and the construction process also takes longer.
If you want to have a say in the construction and design process of your home without starting from scratch, a semi-custom home is a great choice. In this arrangement, the builder provides you with pre-selected options (which are usually the ones that most buyers go for). There is a fair amount of customization on your part, but not total control.
A spec house is built to appeal to the general market. These are called speculative homes because they are constructed without a specific buyer in mind.
One of the major advantages of buying a spec home is that they are move-in ready, making it ideal if you have a tight schedule. Spec homes can also be more flexible in terms of pricing and design.
This type of housing involves the builder purchasing huge tracts of land and subdividing it into smaller home sites. Your customization options might be limited to choosing the exterior design of the home and the floor plan you want.
Tract homes are built in areas with a high demand for housing. These properties are also the most affordable among the bunch. 
Tips for buying a new construction home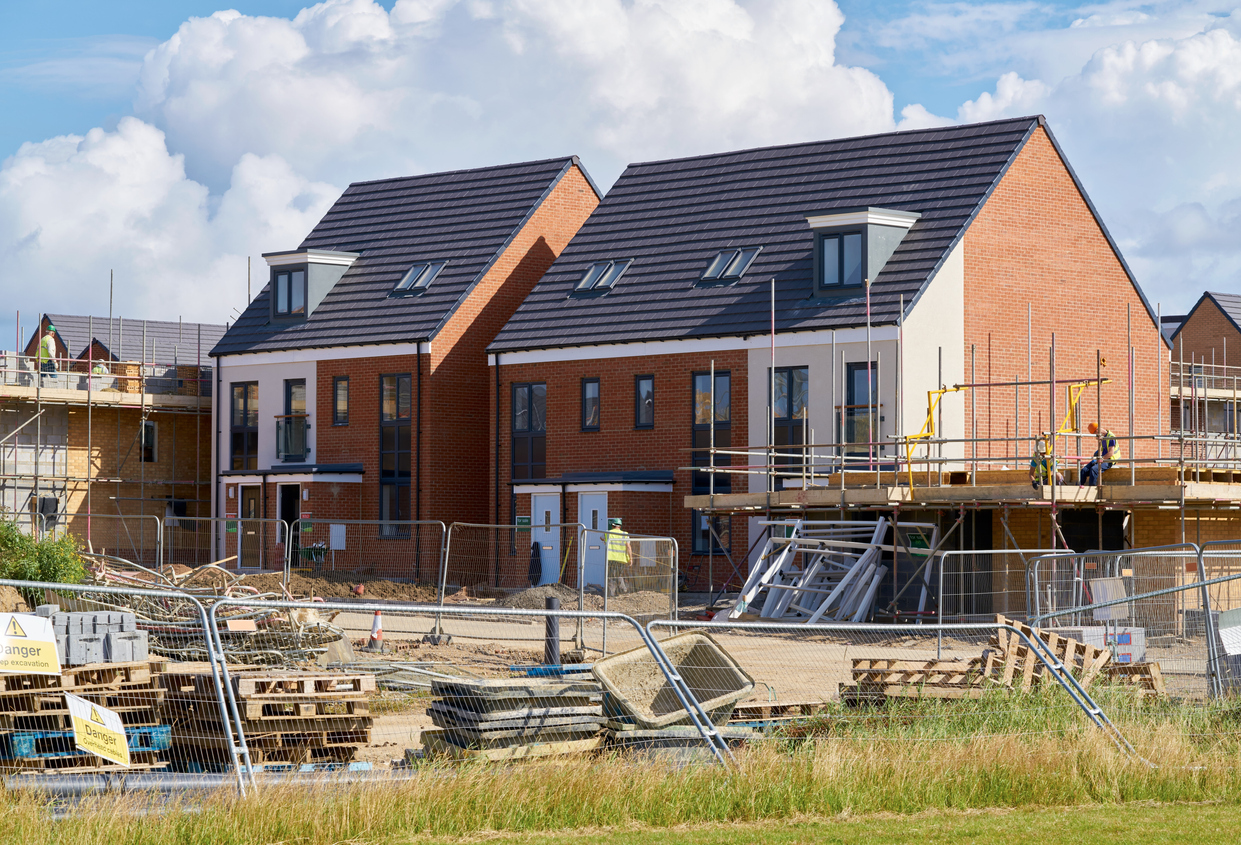 Ready to buy your very own new construction home in Olathe, Kansas? Keep the following tips in mind for a stress-free homebuying experience:
Get acquainted with the process 
Buying a new construction home is like buying a resale— both involve talking to lenders, researching the area, negotiations, and home inspections. As a buyer, it's essential to know how to buy a new construction home and the whole process before diving into it.
But one aspect that makes buying a new construction home different is the length of the process. Because of construction delays, permit approvals, and the weather, the timeline for the completion of a new construction home can be hard to predict. That's why it's important to be prepared and find a new construction home with a timetable that fits your schedule. 
Know your new construction home loans
Financing the purchase of a new construction home is a bit different. These mortgages usually have shorter loan periods and higher interest rates, so make sure to shop around. 
Here are some of your options:
Construction-to-permanent loans – A one-time credit, you can use this to finance the construction of the property. Once the home is completed, the loan becomes a permanent mortgage.
Construction-only loans – Like a construction-to-permanent loan, a construction-only loan also borrows funds for building the home. Yet this type of loan involves two separate credits: One to cover the construction and the other as the mortgage. 
Owner-builder loans – This loan only applies to landowners who are in the process of constructing their own home. For this loan, you are the general contractor, required to show proof that you are qualified to do so.
End loans – Some lenders may not offer a construction-to-permanent loan, which is where an end loan comes in. Like any other mortgage, buyers can get an end loan once the home is finished.
Get in touch with different lenders and talk about your loan options. Builders also have their own set of preferred lenders, but you aren't required to use them. 
Determine the kind of home you want
With four types of new construction homes to choose from, the best way to decide which suits you best is to break down your needs and wants. Consider your budget, timeline, location, and the amount of customization that you want to do. 
Your timeline, for instance, can determine if you have enough time to customize the home or if you need to move in right away. If it's the latter, a tailored home like a spec or trac home might be a better option. But if you have enough time to work with the builder and complete the home, choose a custom or a semi-custom home.
Learn more about the neighborhood
Whether you're buying an existing property or shopping for a new construction home, location is an important factor to consider. There are two paths to choose from: buy a home in a new construction development or purchase land and work with your preferred builder.
As you come up with a shortlist, evaluate each neighborhood. Consider the amenities offered and its accessibility. Ask about any future developments in or around the area. And if possible, visit the site to get a feel of the community. 
Look past the model home
When you start looking at builders and their new construction projects, you'll be touring the community and various model homes. Most homebuyers think the model home is the one they'll get from the start, forgetting that it's just a showroom that exhibits all the best upgrades that the builder is offering. 
As you tour a model home, try to see beyond the upgrades and staged rooms. Examine the home as whole and assess if the structure and layout is the right fit for you. If you see something you like, take note of it, and ask the builder if it can be customized.
Ask questions
As with any huge financial decision, it's important to ask questions to avoid unpleasant surprises. You also want to ensure that the builder is reputable, experienced, and provides quality homes. 
Here are some of the questions to ask your builder:
How long have you been constructing homes?
What were your past projects?
Is there an HOA?
What is the construction timeline?
Who is the contact person?
Do you have any references or past buyers I can contact?
Ask to see the breakdown of costs as well. These expenses include the materials, upgrades, and the labor. Depending on your builder, you may be required to pay for certain upgrades upfront, on closing day, or through a split payment. Knowing the possible costs ahead of time can help you plan. 
Make sure everything is in writing
As you talk and negotiate with the builder about the features and upgrades for your new construction home, have it all written down. Builders reneging on their promises is not uncommon. That's why it's important to make sure that any verbal negotiations between you and the builder are recorded and signed. 
See the warranty coverage
New construction homes typically come with a builder warranty that covers certain components of the property. Since the warranty coverage and the options are different per builder, it's important to understand what is covered and what isn't. Some new construction home warranties may even be provided by third-party independent companies. 
The period of coverage for a new construction home ranges from one year up to ten years. 
Have a negotiation strategy
Due to construction costs and the brand-new features that come with a new construction home, there isn't much room for negotiation with this type of residential property. New construction homes sold by a builder or developer start with a base price, which includes standard features. Once you start adding customizing, the price will naturally increase. Nevertheless, you can still negotiate with the builder for a better deal. 
The key is to be creative. Instead of asking for a price reduction, ask for free upgrades like better light fixtures and appliances. You can also try to ask for a discount on closing costs. Another approach is to wait for the home to be move-in ready or wait until the end of the year.
Get a home inspection
One of our top tips on how to buy a new construction home in Olathe, Kansas is to schedule a home inspection. While an advantage of buying a new construction home is its pristine condition, having the home inspected is still best practice. A home inspector may find structural issues or potential problems that the builder will need to address before closing. These home inspection findings can also be used in negotiating the price.
Hire a real estate agent
Buying a new construction home in Olathe, Kansas can be daunting. With a real estate agent by your side, you have someone guiding you throughout every step of the process. 
A good real estate agent makes sure that all your questions are answered, negotiates for the best deal, and overall keeps your best interests at heart. They also know how to talk to builders and contractors.
When choosing a real estate agent to work with, take note of the ones who specialize or are experienced with new construction homes in Olathe, Kansas. How long have they been helping clients buy new construction homes? Don't hesitate to ask them questions about their experience and how well they know the neighborhood, too.
Don't skip the final walkthrough
Before closing, do a final walkthrough and look out for any issues. Check if everything works, from the appliances to the light switches. 
If you took the option of customizing your home or choosing certain design features, make sure that your choices are reflected well. Once you spot any elements that need to be adjusted or corrected, talk to your builder and real estate agent right away. Document everything for posterity.
Find the perfect new construction home
Your journey towards finding the right new construction home in Olathe, Kansas starts with an experienced, efficient, and trusted real estate team by your side. 
Led by top producing real estate agent Shanan Steere, our agents at the Shanan Steere Group are ranked in the top 1% of Realtors in the Kansas City Metro area. We have a combined 24 years of experience when it comes to helping buyers find their dream home, providing quality advice and a full suite of services along the way. 
Let's start exploring your new construction options in Olathe, Kansas!
Learnhow to buy a new construction homeby getting in touch with us at 913.906.5400. You can alsosend us an email.