Planning to move to Olathe, Kansas soon? You couldn't have chosen a better place to live. With its small town charm, family-friendly lifestyle, and modern amenities, Olathe combines the best of traditional and contemporary living.
As in any other place, however, buying a home in Olathe comes with its own set of challenges. Throughout the process, it's almost inevitable that you will run into unforeseen roadblocks, some minor hiccups, and even a few major setbacks. It all comes with getting your dream home in a competitive market like Olathe.
This is why you need to work with trusted Olathe, Kansas real estate agents. When you have a professional by your side, you can rely on their expertise to help you iron out the kinks and make the process as enjoyable and exciting as every homebuying experience should be.
What's Inside:
An overview of the Olathe, KC real estate market
Incorporated in 1857, the City of Olathe is the county seat of Johnson County in Kansas. It has a great location just 21 miles southwest of Downtown Kansas City, and can easily be accessed through Interstate 35.
With a population of over 141,000, Olathe is a bustling community with a vibrant economy. Downtown Olathe is currently undergoing a transformation to help promote more industries and commercial activities while maintaining its traditional charm and small town vibe.
The city prides itself for its family-friendly nature, with acres of parks and open spaces, highly ranked schools, and tranquil residential areas. With everything it has to offer, it's no wonder thousands of people are moving here and calling it home. Olathe's population has increased over 200% from just 30 years ago.
The city's desirability is reflected by its dynamic real estate market. Home to sprawling estates, acreages, and spacious homes in a wide range of prices, the city appeals to buyers looking for plenty of living space and a great quality of life. The average home price here has increased nearly 80% in the last ten years, with home values appreciating by 15.5% from December, 2020 to December, 2021 alone.
There are plenty of opportunities waiting for home buyers in Olathe. In such a dynamic and sought-after real estate market, you need to work with an experienced real estate professional to make sure you're making the best decisions and getting the most out of your investment.
The many benefits of working with Olathe, Kansas real estate agents when buying a home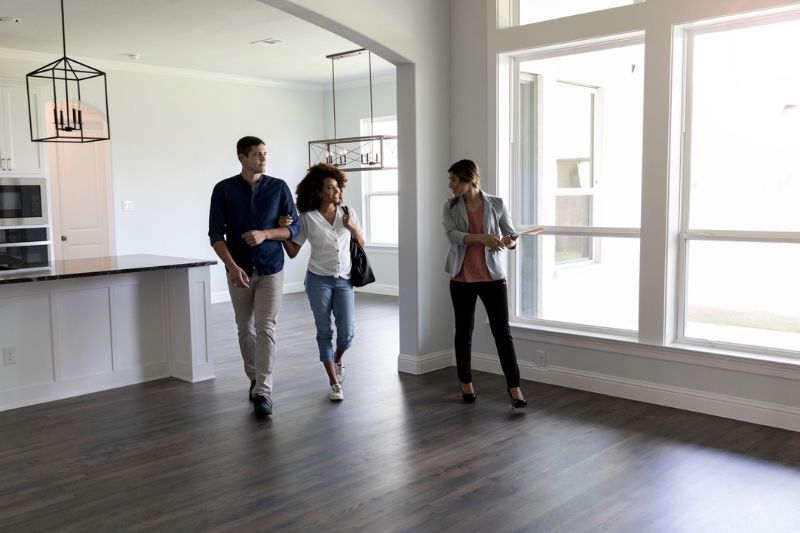 Expert guidance at no cost to you

Many homebuyers make the mistake of thinking they can save on commission fees by not hiring a real estate agent. What they may not be aware of is that in almost all cases, it's the seller who pays agents' commissions. Whether the Realtor acts as both the selling and buying agent, or the buyer and seller are represented by different agents, the seller pays the commission fees at closing.

This means that you, as the buyer, get the expert services of a Realtor at no cost to you. You'll have peace of mind knowing you can rely on a professional to give you much needed advice and guidance in making important decisions. The agent will do much of the hard work without you having to shell out anything for their services.

Faster home search

If you're like 90% of homebuyers today, chances are, you have started your home search online. And indeed, the internet is a rich repository of information on real estate for sale anywhere, including in Olathe, KC. But while that may sound like a great place to start, you'll find out soon enough that it can also be quite frustrating, especially when you lack enough knowledge of the local area.

There can be dozens of choices on online listing sites – and more than a few may seem like the perfect home for you. Without the guidance of a local real estate expert, it can be difficult to review each potential home closely and narrow down your options to those that best suit your needs and preferences.

Experienced real estate agents in Olathe, Kansas will be familiar with homes for sale in the area. With their network and connections, there's a good chance they would already have visited many of these homes and will know which ones to recommend to their clients.

In real estate talk, this is known as the "purple room phenomenon". If you're looking for that one elusive house with a purple room, a real estate agent will know exactly where to find it.

Easier access to homes on the market

While you will likely find plenty of listings on the internet, keep in mind that many homeowners prefer not to advertise the sale of their property. In most cases, the only way you'll know about these homes is through your real estate agent, who often obtains access to private listings through their network and connections.

In addition, a Realtor can schedule home viewings more easily than unrepresented buyers. Many sellers prefer to deal only with agents, and are uncomfortable about communicating directly with potential buyers who have not been vetted by a Realtor.

Furthermore, buying and listing agents typically have reciprocal relationships and give priority to each other's clients when it comes to real estate leads.

Local neighborhood information

When searching homes for sale in Olathe, you should also consider the neighborhood. In addition to safety, you would want to live in a community where you will likely get along well with the neighbors and have good access to places that matter to you and your family, such as schools, parks, grocery stores, places of worship, and so on.

You should also consider home value appreciation. If you decide to sell your home in the future, you can make a good profit if the value of the property appreciates over the years. One indicator of a home's potential resale value is the home pricing trend in the neighborhood. Real estate in a desirable area typically increases in value over time.

An experienced Olathe Realtor has in-depth insider knowledge about the various neighborhoods in the city. They can provide you with important market data, demographics, and their own insights about living in communities here so you can decide which one would be a good fit to your goals, needs, and preferences.

Professional advice based on market conditions

Is it a good time to buy a home in Olathe? Is there plenty of competition in the market, and if so, how can you get ahead of your competitors? What is a reasonable but competitive offer price? Should you bid above or below the list price?

Olathe, Kansas real estate agents can help you find answers to these difficult questions based on their expert analysis of market conditions. A Realtor typically has access to insider information and the latest market data, which they use in providing sound real estate advice.

Information such as average selling price, days on market, listing vs. sale price ratio, and months of inventory, are important tools in making good home buying decisions. Using these data, you and your Realtor can develop a comprehensive buying strategy that will increase your chances of landing your dream home while making sure your interests are protected.

Negotiation skills

Negotiations in real estate can be highly nuanced. You should strike a balance between being firm and keeping the communication lines open with the seller. As a buyer, it's easy to get carried away by your emotions and simply give in to excitement or frustration, which may eventually cost you a good deal.

On the other hand, a Realtor is trained to remain objective under pressure, and understand the underlying factors that can sway a seller's decision in your favor. They can spot opportunities for a bargain or a detrimental term or condition that an untrained buyer can easily miss.

Through years of experience, the top real estate professionals have developed a knack for communicating and negotiating effectively with home buyers and sellers, and they leverage this skill in closing the best deal for their clients.

Managing the paperwork

A real estate transaction often comes with a mountain of paperwork. In addition to the documents required by your lender, you also need to complete other forms and processes, including the purchase agreement, a title search, title insurance, home inspection certificate, transfer tax declarations, and more. You will also need to go through the documents provided by the seller, such as property disclosures and property tax statements.

While a lawyer or other professionals may be responsible for creating and reviewing some of these documents, your real estate agent is tasked to make sure all the paperwork is completed on time. They will do most of the paper chase for you and will supervise the preparation of these documents to ensure timeliness and accuracy.

Widespread network

When buying a home, you will need the services of other professionals, such as lawyers, title and escrow companies, mortgage brokers, and home inspectors. And in moving to your new home, you might need to hire a moving company, contractors, renovators, professional cleaners, and so on. If you're new to the area, finding the right service providers can be even more challenging.

Your Realtor can come to your aid. Established real estate agents would have built a network that includes not only other realtors and brokers but other professionals who are also involved in the industry. Your agent can provide you with a list of people and companies they've worked with in the past and who have a good reputation in the community. While you're free to choose the professionals to hire, your agent's recommendations can come in very handy.

Dealing with unexpected issues
Even with the most careful preparations, you can still run into unexpected problems through the homebuying process. The bank's appraisal may come out lower than your agreed price with the seller. A home inspection might uncover major issues on the property. Or a title search might reveal previously unknown claimants to the home.
A seasoned real estate agent has seen and gone through it all. They will know what to do in cases like these, and provide you with objective guidance on how to handle a difficult situation. Your Realtor will also work to always be a step ahead in the process to ensure a smooth and worry-free closing.
Work with a certified trainer of over 3,500 agents
In buying a home in Olathe, Kansas, make sure to work only with experienced real estate agents with proven track records. Call us, the Shanan Steere Group, and find out what sets us apart from the rest of the field.
We are in the top 1% of Kansas Metro agents and were ranked in the state of Kansas's top ten small business teams in volume of transactions. Our lead listing and buyer's agent Shanan Steere has over 23 years of experience in Kansas real estate and has sold 16.2 times the number of single-family homes than the average Realtor in the area.
A true real estate expert, Shanan is a certified John Maxwell coach who has trained more than 3,500 real estate agents across North America. When you work with us, you can rest assured you are in the best hands. We are committed to go over and beyond to ensure you have a smooth and fruitful real estate experience.
5-star review for 5-star service! We've worked with Shanan on two homes in the past few months with both buying and selling. Even in this market Shanan found the homes we wanted and help get the deal we needed. Always on time and highly professional, Shanan stands out among Kansas Metro area real estate agents. A no drama attitude combined with a sharp wit Shanan kept us calm as we worked to find our home. She and her team are the best real estate agent team in the Kansas City metro.
-Lee S.

Start your journey toward owning your dream home in Olathe, KC today. Get in touch with us at 913.906.5400 or send us an email at shannan(at)shanangroup(dotted)com.